Our Accreditations
We are committed to quality, and are proud to be accredited by industry-specific governing bodies in the Heating & Plumbing sectors. We are confident that our professional, qualified team can provide an incredible service to our highly-valued customers.
We believe it is essential to showcase our qualifications and expertise, and to show our desire and commitment to providing the best service in Oxfordshire.
Gas Safe Registered
The Gas Safe Register is the official gas registration body for the United Kingdom, appointed by the relevant Health & Safety Authority for each area. By law, all gas engineers must be on the Gas Safe Register. The Gas Safe Register replaced CORGI as the gas registration body on 1 April 2009. M&N Heating & Plumbing, and all of our heating engineers, are Gas Safe registered.
Our Gas Safe registration number is 8146.
LPG Qualified
The CONGLP1/PD assessment is designed to test the gas safety competence of an operative intending to extend the work range from natural gas to liquefied petroleum gas in both domestic and commercial permanent dwellings by practical, knowledge and understanding assessment.
M&N Heating & Plumbing, and all of our appropriate heating engineers, are CONGLP1/PD qualified.
OFTEC Registered
OFTEC is a trade association that works on behalf of the oil heating and cooking industry in the United Kingdom. To become OFTEC registered, all technicians must undertake an approved training course and assessment to ensure compliance guidance on installation, maintenance and servicing of oil appliances.
We, and all of our appropriate heating engineers, are OFTEC registered.
Safemark Accredited

Recognised by Safety Schemes in Procurement (SSIP), Safemark is the NHBC's pre-qualification health and safety assessment scheme to ensure all contractors, or sub-contractors, have the skills, knowledge, training and experience required to work on house-building projects.
Safemark is designed to raise standards to protect home-owners for up to 80% of all new homes built in the United Kingdom.
M&N Heating & Plumbing is Safemark accredited.
MCS Certified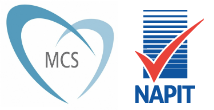 The Microgeneration Certification Scheme (MCS) is an industry-led and internationally recognised quality assurance scheme, supported by the Department of Energy & Climate Change (DECC). MCS certification ensures that microgeneration products, utilised to produce electricity and heat from renewable sources, have been installed and commissioned to the highest standard.
We are certified to install solar thermal technologies. Our certification number is NAP17224.
RECC Member

The aim of the Renewable Energy Consumer Code (RECC) is to ensure that consumers wishing to install a small-scale heat or power generation unit for their homes. It covers all the factors that contribute to a high standard of consumer service - before, during and after a contract is agreed.
M&N Heating & Plumbing is a RECC Member, and has agreed to abide by the high standards set out by the RECC Consumer Code. Our membership number is 50503.
Telephone01295 224844
Fax01295 277637
Book Your Quote Now!
Address Unit 2b
Vantage Business Park
Bloxham Road Banbury Oxfordshire OX16 9UX United Kingdom