Our Chosen Charity For 2018
11-06-2018
We're proud to announce that we have selected the Let's Play Project as our chosen charity for 2018.
Based locally in Banbury, the Let's Play Project specialises in the provision of play and leisure opportunities for disabled young people aged between 5 and 25 years old. The Let's Play Project believes in the equality of opportunity for all and the charity provides open access provision for disabled young people via after school and summer holiday clubs, activities and day trips.
More information on the Let's Play Project can be found on their website: www.letsplaybanbury.org.
Outdoor Play Area
Our objective is to raise enough funds for the Let's Play Project to install an outdoor play area at its premises in Twyford, Banbury. With an estimated £7,000 cost, the outdoor play area would provide a safe, wheelchair accessible play provision for disabled young people in the local area.
In partnership with Banbury Litho and LJ Construction, we're organising several fundraising events to take place over the next few months including a cake sale, a corporate golf day and a team challenge day.
Cake Sale & Raffle
Following the success of similar events in the past, Banbury Litho will be hosting a cake sale and raffle on Friday 22nd June 2018. We co-hosted "Banbury's Biggest Coffee Morning" in September 2017 and raised over £1,000 for Macmillan Cancer Support. A wide range of tasty treats, both sweet and savoury, will be available for a small donation to our chosen charity.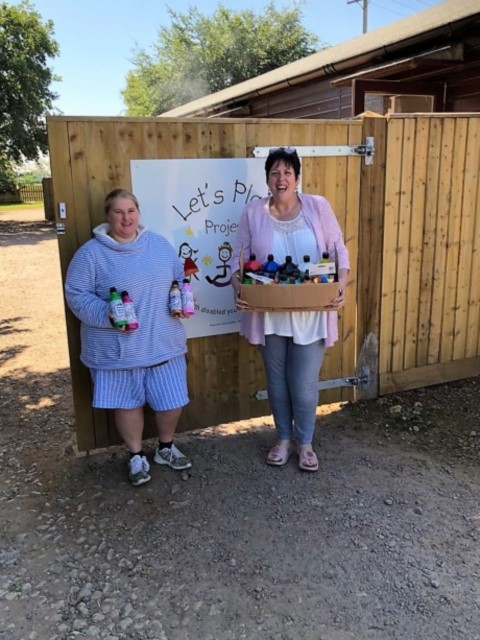 Corporate Golf Day
LJ Construction will be organising a corporate golf day in the coming months, to be hosted a golf club in the local Banbury area. Details to be confirmed nearer the time.
Team Challenge Day
We'll be organising a team challenge day before the end of the year, with our staff members competing in a strenuous challenge for donations towards the Let's Play Project. In September 2016, members of our team braved the Wolf Run, a 10 kilometre assault course with (W)oods, (O)bstacles, (L)akes and (F)ields. We raised over £3,000 for Mayday Trust and Helen & Douglas House.
The Fundraising's Already Begun
We've had a charity sweet box in our office for the past few weeks and our staff members, suppliers and customers have already donated enough funds to purchase a range of items from the Let's Play Project's wish list. A selection of footballs, rugby balls, basketballs and yoga balls, plus paints and painting equipment, were recently purchased and donated to the charity for local young people to utilise at their new premises. A huge thank you to everyone who has donated already! For those that haven't, check out our JustGiving page and donate today!
Telephone01295 224844
Fax01295 277637
Book Your Quote Now!
Address Unit 2b
Vantage Business Park
Bloxham Road Banbury Oxfordshire OX16 9UX United Kingdom